(1995) PC
Customer: Falcon Breweries, Sweden
320 x 200, VGA
Falcon wanted new ideas to enhance a marketing campaign of their lemonade MER. Our solution was to create a game, characterized by the product image using a new, innovative game concept.
The campaign also included a competition: The first persons to complete the game got a paid weekend in London and a visit to a computer game fair.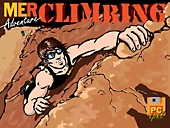 System recommendations:
386 or better processor
1 Mb RAM
DOS 5.0 or later.
600 K disk space
Play from DOS.
Download size: 705 K